8 Best Flooring Upgrades for Your Rental Property (Pros and Cons)
Posted on November 30, 2020 by Hunt Holdridge
Are you looking to take your rental property to the next level by giving the floor a makeover? When it comes to boosting the visual appeal of your investment and increasing its value, the floors are a great place to start. Whether you have tons of cash to spend, or find yourself on a tight budget, there's a flooring option for your rental that is sure to impress your tenants.
Today we're going to take a look at the best flooring options for your rental, along with the pros and cons of each, so you can choose the option that's best for you.
What to Look for Before Choosing a Floor
Before you jump in and choose a flooring type for your rental, it's good to know what to look for while shopping around.
When trying to decide on the right flooring for your investment property, there are three factors to consider:
In addition, you'll want to know which room you want to put the floor in. Different types of flooring are best suited for different rooms in a home. For example, placing carpet in the kitchen is never a good idea.
Lastly, don't forget that the flooring you choose for your rental is for your tenants – not yourself. Despite your own personal style, it's best to remain as neutral as possible when it comes to flooring. That's because you'll have tenants with all different senses of style. As a landlord, it's your responsibility to cater to a large tenant pool because you never know who is going to lease your property.
Top Flooring Options for Your Rental
1. Carpet
Carpet is the most well-known flooring type for rental properties. In fact, it continues to dominate the industry market share, raking in 36.4% of all flooring revenue in 2019. It's warm, cost-effective, and easy to maintain. Plus, people love carpet and often expect to find it in bedrooms. When it comes to choosing carpet for your rental, you'll have a slew of colors, depths, and patterns to choose from.
Pros:
Easy to install and replace without disrupting the rest of the floor
One of the most affordable flooring options
Padding and fibers serve as a noise barrier
Offers traction and softness, which is great for tenants with small children
Endless color options
Cons:
Staining is inevitable and will require heavy cleaning or replacement
Normal wear and tear shows quickly
Routine maintenance and replacement required, which costs money
Allergy haven, which is not good for those with allergies or asthma
Is an odor holder
Requires frequent deep cleaning
Carpet is best for bedrooms and living rooms. It should be avoided in rooms such as bathrooms and kitchens.
2. Laminate
Laminate is one of the most cost-effective alternatives to hardwood flooring. There are plenty of designs to choose from, making it easy to mimic more expensive flooring. In fact, laminate is made from a high-resolution photo of hardwood, or other floor type that you like, and is printed onto a fiberboard and sealed with a scratch-resistant topcoat.
Pros:
Easy to install thanks to click-locking planks
Scratch-resistant topcoat extends the life and appearance
Super easy to clean and maintain
Withstands moisture and humidity
Replacement of small sections is easy
Plenty of design options to choose from
Cons:
Continual humidity and water can cause warping
Has the potential to look like the fake wood that it is
Can create a hollow sound while walking
Some find it to be slippery
Laminate flooring is best for living rooms, bedrooms, and kitchens. Because it's susceptible to warping with extended humidity exposure, this is not the best choice for bathrooms or laundry rooms.
3. Tile
Tile is a modern style of flooring that tenants have come to know and love in the rentals they lease. It comes in many different styles. For example, it can look like tile, stone, wood, or other natural materials.
Pros:
Perfect for areas with a lot of humidity (both inside and outside)
Extremely durable and lasts a long time
Very easy to maintain and doesn't stain easily
Perfect for those with allergies
Cons:
Will need to be re-grouted and resealed
Styles often stop being sold, which makes replacing a single tile a pain
Is expensive and difficult to install – might require a residential renovation contractor
Can be cold, especially in the winter months
Might be heavy for top story flooring or units
Great flooring option for kitchens, bathrooms, and living areas.
4. Hardwood
Hardwood is a popular option among tenants and landlords alike. In fact, 36.9% of renters claim that hardwood floors in a rental will influence their decision to lease or not. You can choose from strips, planks, or parquet, which means it's made from different layers of wood rather than a solid piece of wood.
Pros:
Adds property value, which means you can garner a higher rent rate
Is appealing to tenants
Can be refinished or restored when damaged
Quick and easy to clean and maintain
Natural insulator for both winter and summer months
Is neutral and matches any style home
Can last a long time
Cons:
Very expensive to purchase and install
Cannot withstand humidity or water
Pets can permanently damage the wood
Can create a lot of noise
Dents are highly visible
Not as many design options to choose from
Hardwood is a viable option for living rooms and bedrooms.
5. Vinyl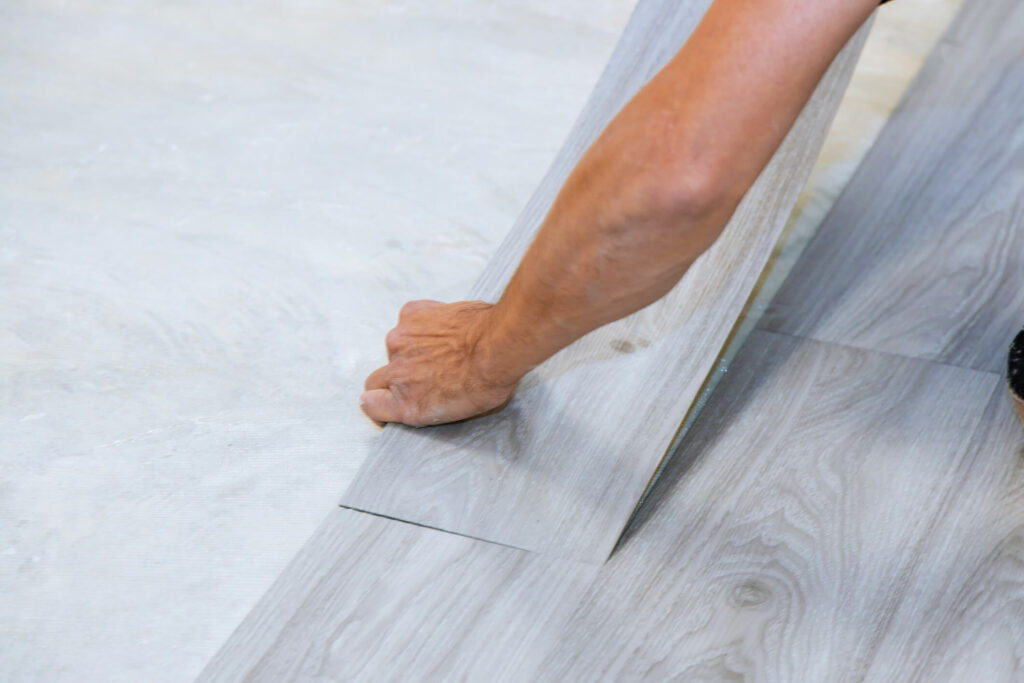 Vinyl is another one of the most affordable flooring options for your rental. It comes in a variety of different styles including endless color options, print designs, and styles. Plus, there is even a thick vinyl option that mimics the look of tile or hardwood.
Pros:
Adhesive backing makes installation a breeze
Lightweight material great for all property types
Durable topcoat is resealable and makes for a lasting floor
Completely resistant to water
Easy to cut and fit into awkward shaped rooms
Extremely stain resistant and is easy to clean and maintain
Cons:
Does not always look like tile or wood despite the design
Susceptible to scratching or punctures
Is hard to remove because of adhesive backing
Will fade if exposed to lots of sunlight
Difficult to repair, damage = replacement
Will not boost property value and is often viewed as outdated
Vinyl is a great floor type for bathrooms, kitchens, and laundry rooms.
6. Engineered Hardwood
Engineered hardwood is a unique flooring option for your rental. Unlike laminate, engineered hardwood comes with a real wood veneer layer on top. This makes it appear more like real hardwood without all the cost.
Pros:
Very durable and easy to clean
More affordable than hardwood and more wood-looking than laminate
Absorbs noise well
More cost-effective than true hardwood flooring
Can withstand moisture and will not warp or bow
More eco-friendly that solid hardwood flooring
Cons:
Susceptible to scratching and UV discoloration
Cannot be sealed and sanded like hardwood for refinishing
More expensive than laminate
Improper cleaning can ruin the floor
Engineered hardwood is great for living rooms, bedrooms, and possibly bathrooms and kitchens.
7. Cork
Cork is a renewable resource that offers eco-friendly landlords and tenants a beautiful finish that is environmentally responsible. Harvested bark from the cork oak, this flooring type is easily taken from trees without causing any harm. This makes it a great alternative to the tree damaging hardwood flooring option.
Pros:
Very soft and is often compared to carpet (as unimaginable as that may seem)
Comes in a variety of textures, finishes, and colors
Very low maintenance and absorbs noise
Long-lasting and durable
A great insulator when it comes to temperature
Hypoallergenic and antimicrobial
Easy to install and maintain
Cons:
Susceptible to damage like dents and divots
Pets and water pooling can damage
Requires water sealing to prevent swelling
Can fade in the sunlight
Cork would be a good flooring option for living rooms, kitchens, and bedrooms.
8. Concrete
Concrete, one of the hardest and strongest flooring options around, is perfect for highly trafficked rental properties. There are plenty of design options, making it a versatile option, and comes in a lightweight version for properties with upper levels.
Pros:
Very low maintenance and highly durable
Colors, stencils, stamps, and more can mimic stone, tile, brick, and even dirt
Option to add electrical cables or hot water tubes for heating element
Can fit any sized budget
Reduces allergens in the property
Cons:
Extremely hard material underfoot
Can be damaged with continuous water or humidity exposure
Cracks can develop over time and require re-pouring
Is not environmentally friendly
Requires occasional resealing
Can be slippery when wet
Concrete flooring should be used for kitchens, entryways, and even garages.
Final Thoughts
Are you in need of high-quality workmanship when it comes to your rental property's flooring? If so, contact us today and see how we can help.
At Make Ready Residential, we understand the importance of floor maintenance and repair. Whether you're a self-managing landlord or use a property manager, we can help maintain the quality of your flooring and ensure your tenants are satisfied with your rental. From simple repairs to major improvements, we can bring a level of customer service you've never experienced before. So, sit back and let us handle your flooring needs so you can enjoy the low turnover rate and high ROI on your rental.
Back to Blog